I started racing with some buddies in 1982. First rallye, then auto cross/slalom, later on
road racing. To finance a new engine, I sold the old one after the saison. That caused
some good references and additional work.
I am in business since 1984, started engine building as a hobby, built nearly exclusively
CiH engines and ported countless heads since.
When irmscher raced the Omega 3000 in DTM they were short on experienced staff
and I had the chance to do these 24V heads at th time. That offered me some insight
into the "pros" business.
But we had different opinions about port and valve seat design, so I decided to buy my
own flow bench. It took me a while to figure out what works and what doesn't, but after
I while I could do repeatedly 200 HP with the CiH 2,0 engine.
Road racing our own Kadett C together with a friend was the next step. It featured a full
coilover suspension and a (well working) 4 link rear end. Very unique for the time.
Surprisingly I could win my first race right away. It happend on the classic big circuit of
Hockenheim with the legendary long straights. We even had only used rallye slicks on
hand. Competition were several BMW and Escort RS.
This is still unbelievable today, because I did not consider the car superior by any
means, nor did I consider myself a pro level driver. I could pull away from most of them
on the straights with an engine rated at "only" 200 HP; and apparently I was not too
slow in the corners.
A officially filed protest against the engine displacement in the following season after
several poles and wins was about the best compliment you can get in racing. It proved
the engine was ok.
Several such Kadett C clones were build around us, leading to many championships,
among countless slalom series, also the Divinolcup and the STT, all won with the 2,0
Liter 2 valve CiH engine.
The many revivals this chassis had, can been seen in Youngtimer/Vintage racing today,
where the Kadett C Gr.2 is leading the class now. Nobody would have believed this in
1976, when BMW and Ford were dominating European road racing.
Today, over 30 years later I have enough experience to build competitive engines of all
brands and types.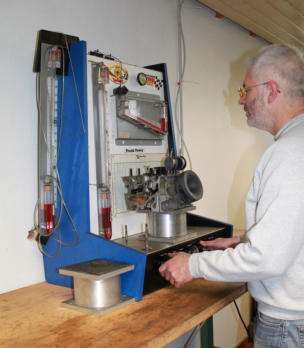 Opel Corsa Gr.F, first dyno room, no noise insulation
yet.
My first flowbench, the SF110, big investment
when purchased in 1991. In the meantime it
has a new buddy with 14 kW power and
modern electronics.
It has a new buddy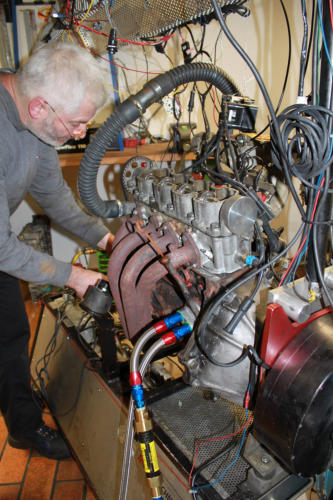 About me
Late Youngtimer racing season start in 2020, with my brother Armin finishing first and
Sven Fisch second, even when he needed to replace his his alternator belt in the
pits. He did also the fastet lape time, far ahead of the competition.